Learn more about our specially fed, drug-free, and pastured free-range turkeys.
Sunshine, fresh air, healthy feed and natural foraging make for happy, healthy turkeys — and happy diners around your Thanksgiving table!
At Fresh From The Farm, we offer two varieties of turkey, both from small Old Order Mennonite family farms and both incredibly fresh and delicious: the tried-and-true turkeys raised for us for nearly 20 years by Paul Martin and family using special feed that makes the meat exceptionally white and tender, and the new "pastured" free-range turkeys from David and Helen Weber.
The Webers raise their turkeys on outdoor pasture in Bruce County. The birds are fed GMO-free grain with no fillers, in addition to being free to forage for bugs and grasses, like their wild relatives. On the pasture, they're kept in portable shelters that provide relief from weather if needed.
"Turkeys are aggressive foragers," David says. After being moved to a new section of pasture "the first thing they look for is crickets and other insects. When they've found all of those, then they start on the foraging. They go for the weeds first," some of which are very high in minerals. Rather than antibiotics, the Webers use a mixture of vitamins and pre- and probiotics to help keep the flock healthy in their outdoor environment.
The shelters are moved by hand twice a day to give the turkeys a fresh chance to forage. It's quite labour-intensive, but there's a big payoff in the density and flavour of the meat. It's also super fresh and not frozen. The birds are processed close by, on the Wednesday before the holiday. They're at Fresh From The Farm and ready for pickup the very next day.
Paul Martin's turkeys, loved by a generation of Fresh From The Farm customers, are raised in an open-sided barn in rural Waterloo Region.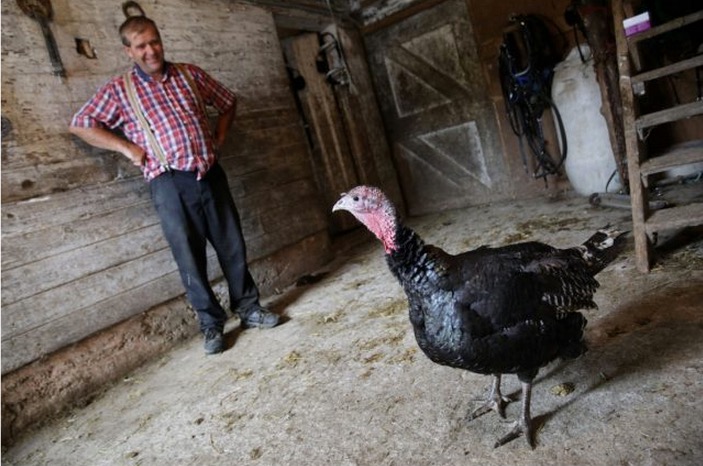 They're fed a special mixture blended at a local mill. In addition to the usual corn, soybeans and barley, he adds flax, which he says makes the meat especially tender and delicious. Just as important is what doesn't go into the turkey feed: things like bone meal, other animal byproducts or drugs.
"We've been doing for years what most farmers would say is impossible, growing a drug-free bird, year after year, in the same barn," Paul says.
Thanksgiving turkeys are processed just days before the holidays, so they arrive at the holiday table very fresh in comparison to the supermarket variety. For many people who try one of Paul's turkeys for the first time, the delicious flavour comes as a revelation.
The Webers and Martins turn out only a few hundred flavourful turkeys each year, many of which will end up on the Thanksgiving tables of Fresh From The Farm customers. So it's a great idea to order ahead so you don't miss out.
Order your Fresh From The Farm turkey today and pick it up just before Thanksgiving!
While you're at it, make your holiday dinner a snap with other Fresh From The Farm products, all prepared in keeping with our philosophy of "Local, Healthy, Fresh & Delicious"!
From our kitchen, homemade on site:
ready-made stuffing (gluten-free option available)
gravy (gluten-free option available)
cranberry salad & cranberry sauce, (Grandma Schmucker's recipe) 
To top it all off, pick up a beautiful homemade pumpkin pie from Anna Mae's traditional bakery in Millbank!