This is high season for local eating in Ontario! Be sure to drop by Schmucker's Fresh From The Farm for the best of our local farmers' produce, from delicious greens for your salad bowl, to peppers, onions, mushrooms and zucchini for grilling, to the perfect fruit for summer desserts.
Now is the ideal time to enjoy one of the first local tree fruits to come in, cherries! You'll find them, sweet, tangy and pesticide-free, at Fresh From The Farm. Buying local in season helps support our local farmers, reduces harmful emissions, and ensures the fruit is at its peak of flavour and freshness.
Ontario farmers grow Montmorency sour cherries (our favourite for pies!) and a number of sweet cherry varieties, including the famous Bing and the more recently introduced Vandelay and Tehranivee types, which are great for eating out of hand.
Cherries are a good source of Vitamin C and potassium. Pop them into the fridge when you bring them home to preserve their flavour, and quickly discard any crushed fruit to prevent them from spoiling the rest.
Here's an easy, classic French dessert starring cherries, to whip up while they're at their delicious seasonal peak.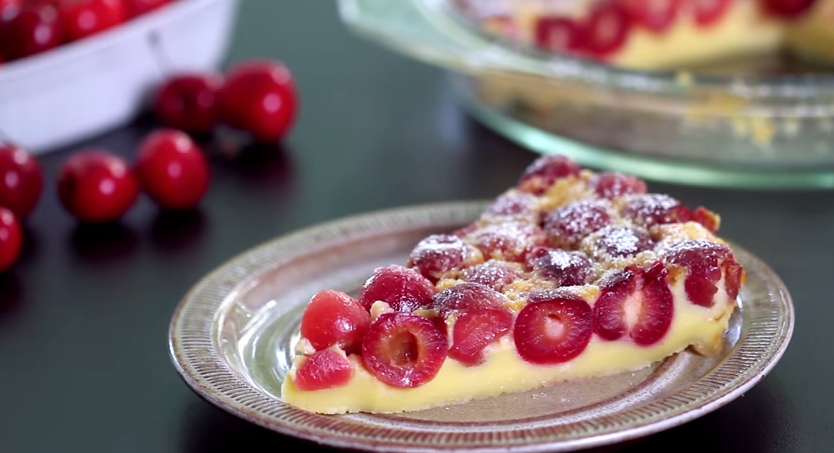 Image credit: tastemade.com
Cherry Clafoutis
1 cup milk (preferably whole, or substitute cream for part of it)
3 eggs
1/2 cup sugar
1 tsp. vanilla extract
2 Tbsp. butter, melted
1/2 cup all-purpose flour
2 cups pitted cherries
Powdered sugar (for dusting)
Preheat the oven to 325°F.
In a large bowl, whisk together the milk, eggs, sugar, vanilla, and melted butter until the sugar dissolves. Add the flour and whisk until smooth. Pour this mixture into a buttered glass pie pan or baking dish. (You can also use a cast iron skillet or even separate ramekins, but steer away from thin metal, which may cook the edges too quickly.)
Sprinkle cherries on top.
Bake until the clafoutis is puffed and golden, 35–40 minutes. For an elegant touch, dust with powdered sugar. Cut into wedges and serve immediately. (Clafoutis will lose its puffiness if you wait to serve it, but it will be just as delicious.)
Note: This recipe also makes an elegant breakfast! Try it later in the season by substituting raspberries, concord grapes or slices of ripe peach, nectarine or pear for the cherries. Experiment with substituting different flavourings for the vanilla, such as almond extract or your favourite liqueur, for variations all summer long.