Whether for daily use or a wine-and-cheese gathering you'll find lots of inspiration at Schmucker's Fresh From The Farm. All our delicious cheese varieties are locally made in Ontario (and a few in Quebec).
From Monforte, an artisanal cheesemaker based in Stratford, Ont., we have selections such as Providence, a cows-milk Saler cheese that's tangy and creamy, a little Cheddar-like and fabulous in a late-night grilled cheese sandwich. Or try Torta, a surface-ripened Camembert with a rich, buttery texture that pairs perfectly on a cracker with preserves, jams or honey.
The hard-ripened Tomme cheese is a dry, well-aged goats' milk cheese with a bit of bite — great for your cheese board or to grate on pasta or salad. Try Abondance – a super creamy cheese with a hint of nutty flavour that's made from local water buffalo milk.
Love that old standby, cheddar? You can't do better than Bright's. Established in 1874 in Oxford, Ont., Bright Cheese & Butter is the oldest cheddar maker in Canada, known for its all-natural, naturally aged cheese. We carry a range of Bright's cheddars from medium through old and extra-old, both orange and white, as well as Gouda, Feta, Havarti, Marble, Monterey Jack and Brick cheese in fun flavours perfect for your cheese board.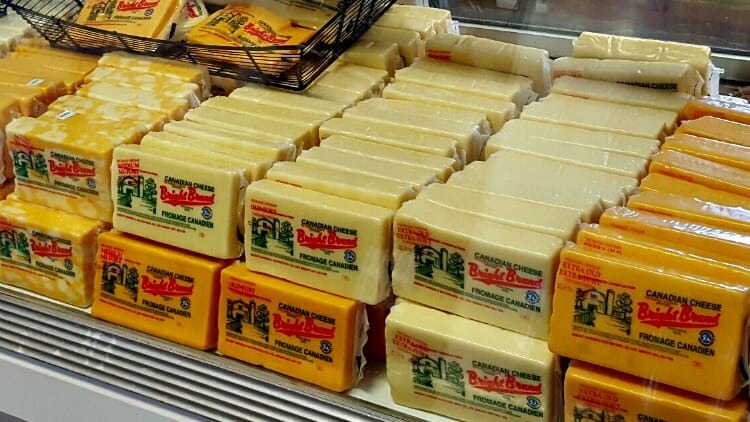 Gordon's Goat Dairy, a small family operation in Howick, Ont., produces some of the lightest tasting, creamiest goat cheeses you'll ever try — many of the them winners at the Royal Canadian Winter Fair —in a sustainable operation. Try their all-organic Gouda, Havarti, Feta, Cheddar and cream cheese, plain or with chives.
We also carry Blyth Farm Cheese, a small family operation that raises the goats, milks them and employs traditional craft in cheesemaking. They are located close to Lake Huron near the historical village of Blyth.
From Fromagerie L'Ancetre in Bécancour, Quebec, Canada's biggest organic cheese maker, we have a raw organic Parmesan, marble cheddar, and lactose-free mozzarella. If poutine is your guilty pleasure, be sure to try our Biemond fresh curds (from family-run Upper Canada Creamery, an organic dairy in Iroquois, Ont.).
There's plenty more to choose from — just drop by to check out the selection at Schmucker's Fresh From The Farm. Happy party planning!