Sweet, tree-ripened peaches and other delectable fruits, grown by our friend Nacho and his family at Bizjak Farms.
If you're one of those people who swoon over a perfectly sweet, tree-ripened peach — the kind so delectably juicy you need to eat it over the kitchen sink! — late August and early September are heaven. It's the height of Ontario peach season, and you'll find some of the best at Schmucker's Fresh From The Farm, grown by our friend Nacho and his extended family at Bizjak Farms.
Unlike many supermarket suppliers, the Niagara-area grower allows fruit to ripen on the tree and picks every other day during the season, ensuring the fruit reaches the peak of its flavour, sweetness and nutrition before its short trip to Toronto and Schmucker's Fresh From The Farm.
It's not easy growing tender stone fruits without pesticides in Niagara's humid climate, where various diseases and insect pests can pose a threat to fruit quality. Bizjak Farms relies on a variety of techniques, such as applying organic compost, that enrich the soil and increase beneficial organisms, to strengthen the trees and make them more disease-resistant. They also use natural techniques that help create an environment unconducive to diseases or pests, such as introducing beneficial insects, utilizing pheromones, and encouraging ground covers that distract pests away from fruit.
It's all part of the mission of this multgenerational, family-owned farm to support the environment and the community with sustainable farming practices that both care for the land and ensure future generations can continue producing delicious produce close to home in southern Ontario.
Peaches are an excellent source of Vitamin C and high in fibre and potassium, as well as compounds that fight inflammation and obesity, in a delicious 40-calorie package. Try them sliced for dessert, with a little cream or sprinkled with an almond-flavoured liqueur. Yum!
Celebrate summer's fruit bounty with some delicious peaches from Fresh From The Farm and this easy recipe.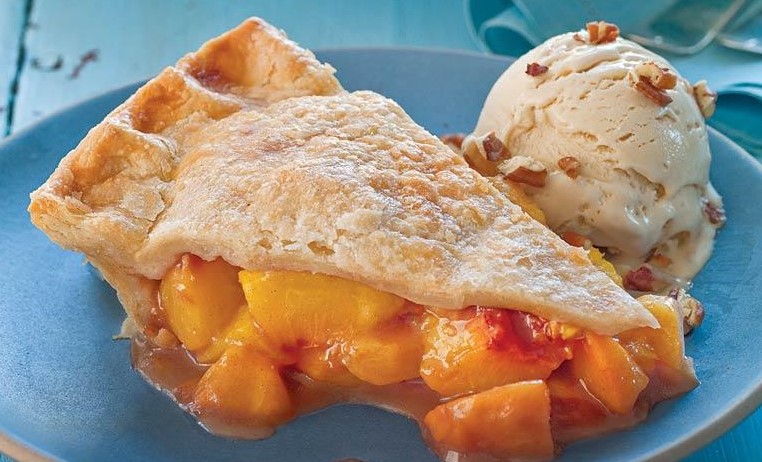 Peach Pie:
Preheat oven to 400F and place a cookie sheet on the middle rack.
You'll need enough pastry for a double pie crust. Use your own recipe, or "cheat" with a quality prepared pie shell such as the Pillsbury refrigerated kind that you simply unroll. Fit half of the pastry into the bottom and sides of a 9" pie plate.
Mix together 2/3 cup sugar, 1/3 cup all-purpose flour and 1/4 tsp. cinnamon in a large bowl. Peel and slice 5 or 6 ripe medium peaches, sprinkle with 1 tsp. lemon juice, then add to sugar/flour mixture and mix gently.
Pile the peach mixture into the shell. Roll out and fit the other half of the pastry over the fruit, crimping edges of the crust together. Cut several large slits in the top. To prevent over-browning, cover the edge with a pie shield or foil strips.
Brush top with cream and sprinkle with sugar and cinnamon. Bake on cookie sheet 40-45 minutes, until crust is golden and juice is thick and bubbling. Allow to cool for two hours.
Serve with a scoop of vanilla ice cream!
By the way, Nacho and family also grow delicious nectarines, plums and much more, so stop and see what's in season!